Urns
Cremation is an increasingly popular choice for families (and individuals pre-arranging their own funerals):
It is more affordable (both immediately and in the long term) than burial in a cemetery
Widely considered to be more environmentally friendly
Ashes can be scattered at location(s) of choice: further personalises the farewell
Urns can include symbolically significant designs / inscriptions (message, poem, verse)
Urns can be displayed at family homes
Cremation is traditional in many cultures who believe that fire is a ritually/spiritually purifying element.
 To view the extensive and affordable urn range we offer please click here.
Tree of Life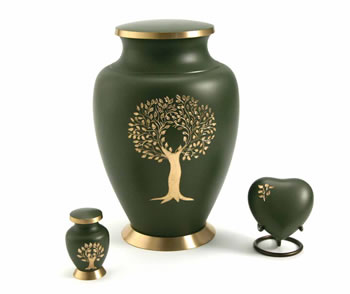 Pewter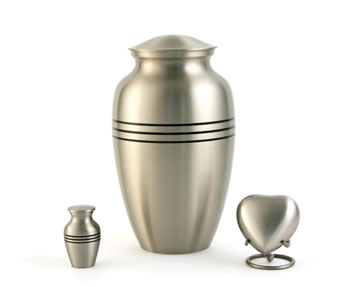 Symbolic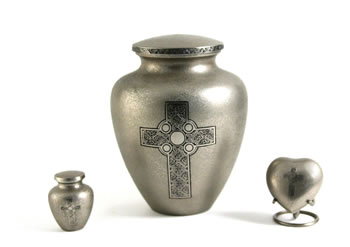 Floral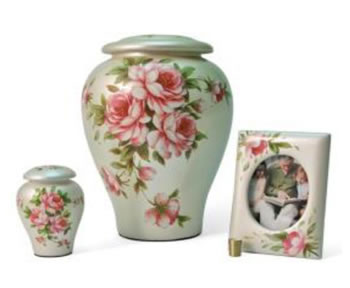 Crimson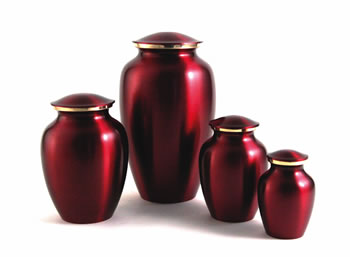 Lavender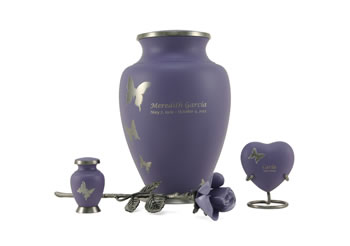 Blue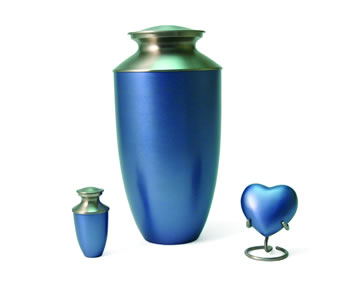 Black & Gold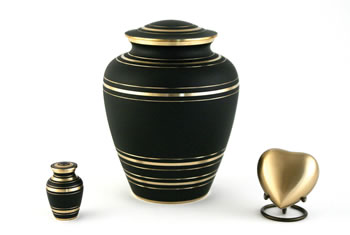 Murray Oak
Murray Blackwood
Solid Tasmanian Blackwood, Satin Finish
Rosewood Gloss Finish (Jaillo Teak also available)Traditional Jarrah – Solid Pine, Jarrah Gloss Finish (Walnut & Natural Gloss Finish also available)
Traditional Rosewood
Solid Pine, Rosewood Gloss Finish (Walnut & Natural Gloss Finish also available)
Traditional Jarrah
Solid Pine, Jarrah Gloss Finish (Walnut & Natural Gloss Finish also available)
Enviro Urns
For the earth-friendly and eco-conscious, we recommend biodegradable, environmentally friendly alternatives, enviro urns are ideal for land and sea scattering or burial. These are made of recycled and/or sustainably sourced biodegradable materials.
Guaranteed "green", made from recycled materials
Crafted especially for sea burials, sea memorials and ocean scatterings
Breaks down when buried in soil.
Peaceful Pillow Fern Urn
The Peaceful Pillow Urn makes a scattering or burial an event, and is a unique way to accept and express a loved one's passing.
These sturdy and easy to use urns are water friendly for both ocean, lake or wide river. Each Peaceful Pillow Fern Urn is a "green" urn accented with real leaves and petals. The urns can be placed directly into the water and will slip under the water within minutes.
Idea for travel to your destination. Each urn has a hemp closure and bag (water soluble, biodegradable, made of corn starch,). Full instructions are included.
Eco Friendly Scattering Tubes
Our Scattering Tubes are designed to provide dignity and personality to the scattering process. The tubes are durable and simple to use, feature a removable lid and a convenient perforated "push in" tab. The tubes contain no metal or plastic and so can be recycled or composted.
Aqua Journey Urn
Beautifully fabricated by hand from recycled and earth friendly materials. The design features a white centre wrap with embedded evergreen sprigs over the aqua coloured container.
For water use, the urn is engineered to float for approximately five minutes before descending gracefully. For land use, it biodegrades naturally over time. Easy to load, and includes a water-soluble plastic bag.
Dimensions: 33 x 34 x 7.5 cms
Cremation & Memorial Jewellery
Heart
Cylinder
Infinite Love
Angel